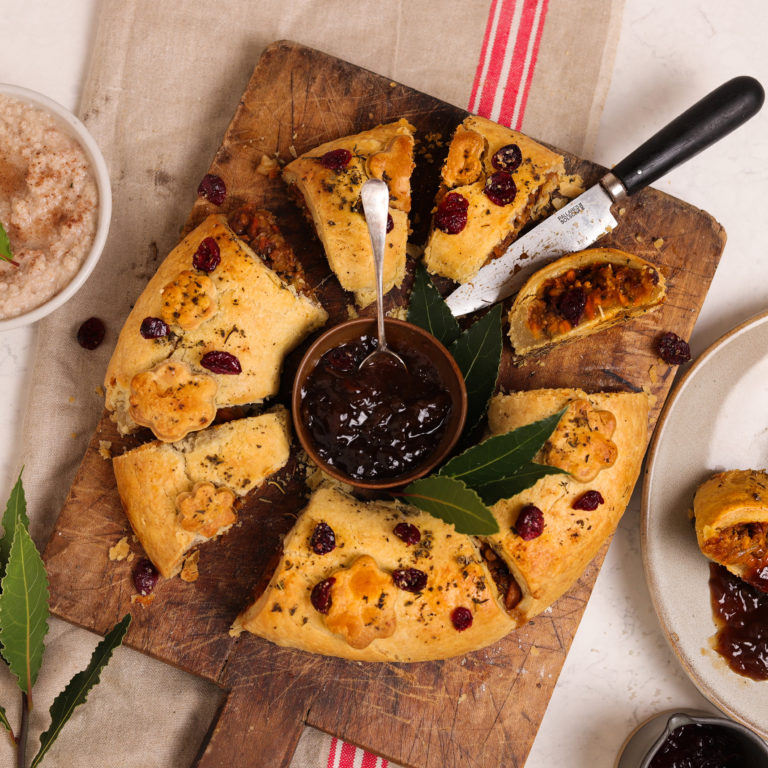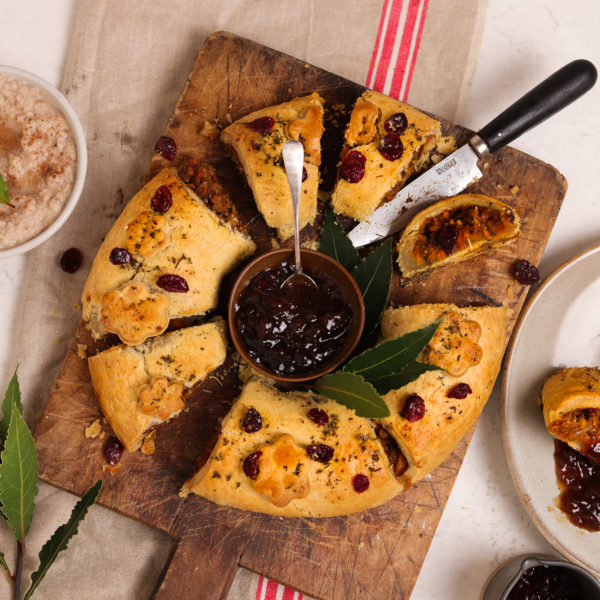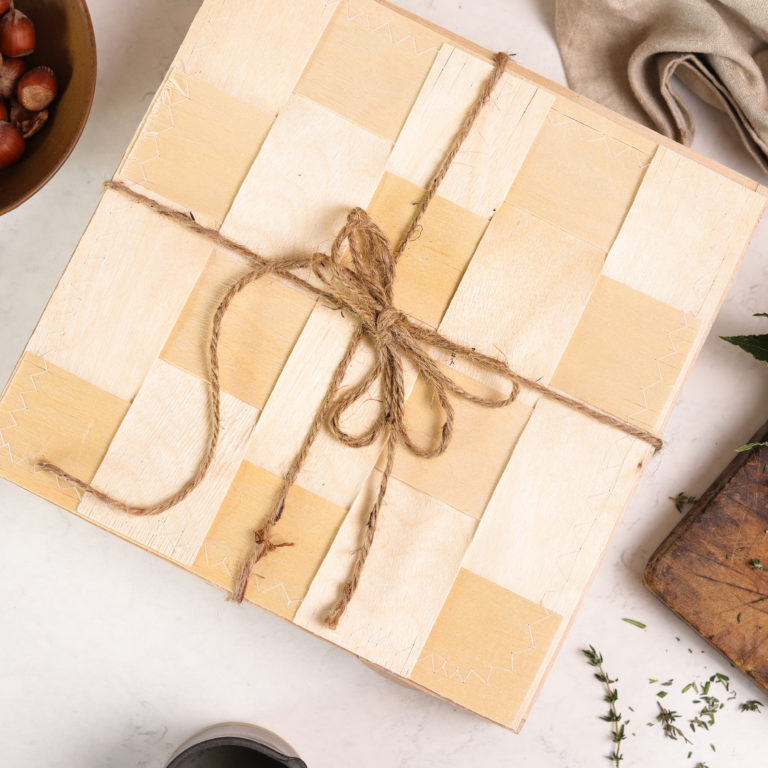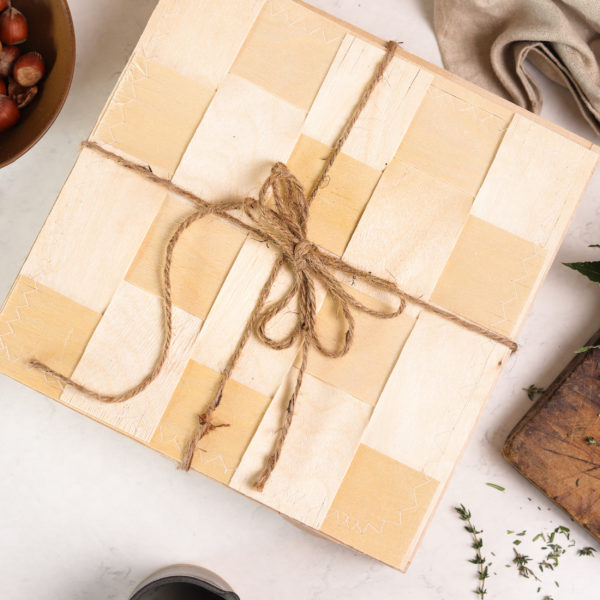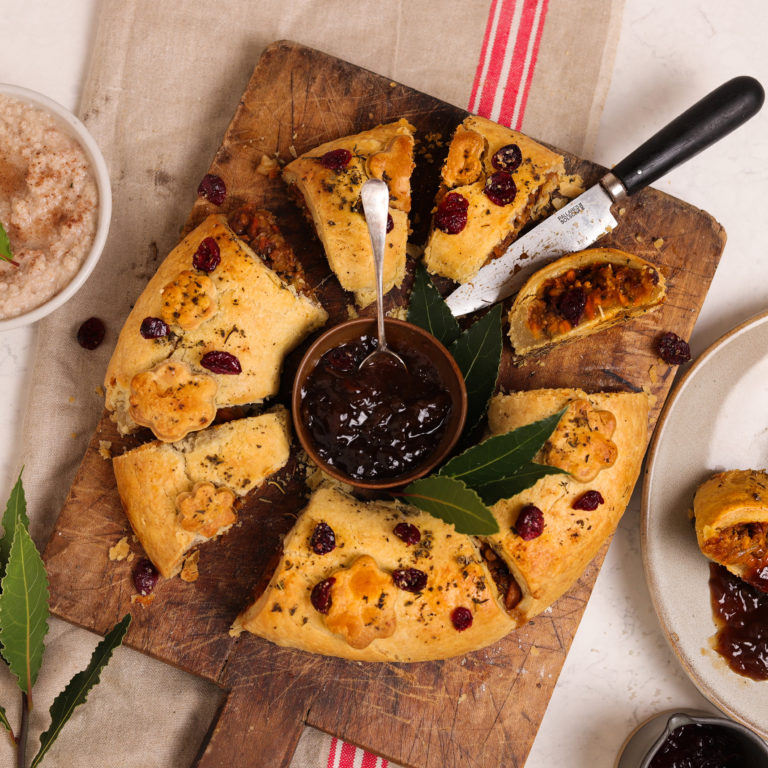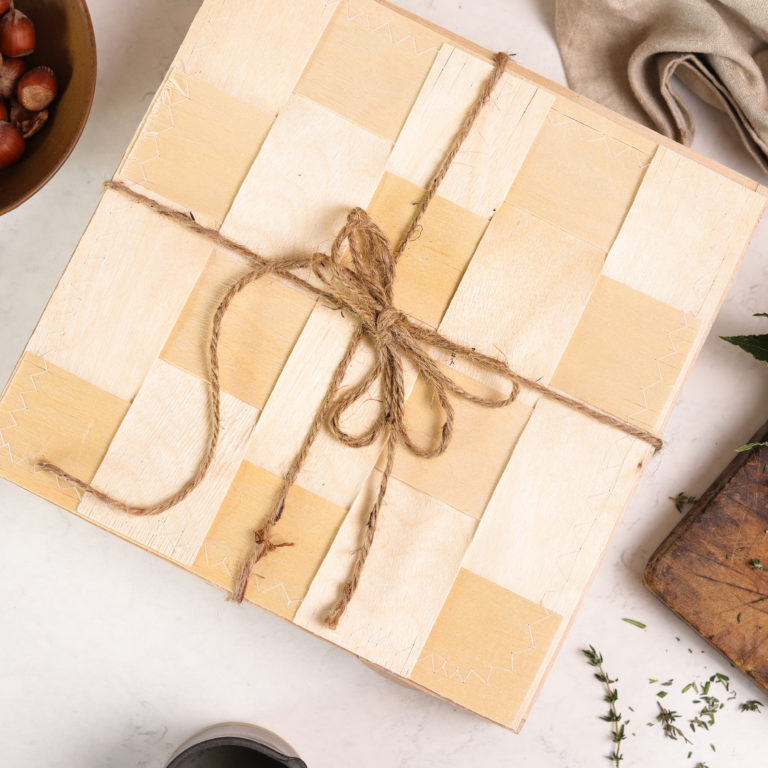 Gaia's Vegan Wreath
£25.00
We created this plant powered harmony gifted to us by Gaia, Mother Earth, and wrapped up all the wholesome ingredients in a flaky, crisp vegan pastry. It is packed with nutritious, healthy, tasty vegetables, grains, fruits, and spices. It is the perfect centrepiece for Christmas Eve or a Boxing Day lunch.
Delivered in a beautiful wooden presentation box, tied with string and a gift tag. Makes a fabulous present.
**Important Product information **
Gaia's Vegan Wreath is delivered in a 26cm square wooden box. Please ensure you have sufficient storage space (i.e. a chest freezer) prior to ordering.
Available for delivery from 7 December.
Out of stock
WHEAT flour, shea butter oil (water, coconut oil, rapeseed oil, salt,
ALMOND (NUTS), carrot juice, emulsifier (Lecithin), lemon juice natural
flavouring), apples, onion, lentils, carrots, butter beans, chestnuts,
couscous (WHEAT), prunes, sweet potato, cranberries, red onion,
water, parsley, tomato purée, orange peel, olive oil, vegetable stock
(sea salt, maltodextrin (from maize), rice flour, vegetables, (onion,
carrot, parsnip), yeast extract, sunflower oil, parsley, turmeric), salt,
nutmeg, black pepper, thyme, rosemary, cinnamon, sage
Per 100g
Energy KJ 1146, Energy Kcal 272
Fat 16 (g) Fat of which is Saturates 8(g)
Carbohydrate 28 (g) Carbohydrate of which is Sugars 4.2(g) Protein 6.2 (g)
Fibre 3.1(g) Salt 0.42(g)
Per 125g serving 
Energy KJ 1433, Energy Kcal 339
Fat 20 (g) Fat of which is Saturates 9.9(g)
Carbohydrate (g) 36 Carbohydrate of which is Sugars 5.3(g), Protein (g) 6.2
Fibre (g) 3.9 Salt (g) 0.53
For best results cook from frozen.
1. Pre heat your oven, 180°C, 350 °F, Gas mark 4.
2. Remove the wreath from its box and place on a baking tray. Best to do this whilst it is frozen.
3. Put into middle shelf of your oven for 60 minutes or until piping hot and pastry is golden.
4. Leave for two minutes before serving.
All ovens vary so please adjust temperature and timings to suit your oven.
NOT Suitable for microwave
Store in freezer until ready for use