If I had to choose one season to live in permanently it would unquestionably be Autumn. The days are cool enough to wrap myself up in a big cosy jumper and the nights cold enough to light the fire without the inevitable argument with my husband as to whether the temperature warrants a fire or not.
Autumn days when the sun is out, but it is hazy and cool. Days spent putting the garden to bed for the winter. Cutting back unruly branches, pulling up spent plants that have given all they have to give, lighting bonfires which send tendrils of woodsmoke into the misty air.Harvesting the last of the vegetables in the kitchen garden before planting winter crops, making chutney with tomatoes that have spent too long procrastinating and now it's too late to ripen, gathering wild food from hedgerows to make jams, pickles and of course blackberries for apple and blackberry crumble.
This simple pastime of picking blackberries and cooking a pie or crumble makes me well up with gratitude, "My cup overfloweth". I feel a deep sense of calm and contentment and so lucky. Apart from that, the house is filled with the most glorious aromas that can only be associated with this heavenly time of year, and we have a delicious pudding to enjoy. I must have custard, preferably homemade but I suppose you could serve it with ice cream or even cream but custard is best!
So, try it, go for a walk and pick a few blackberries before the birds gorge themselves.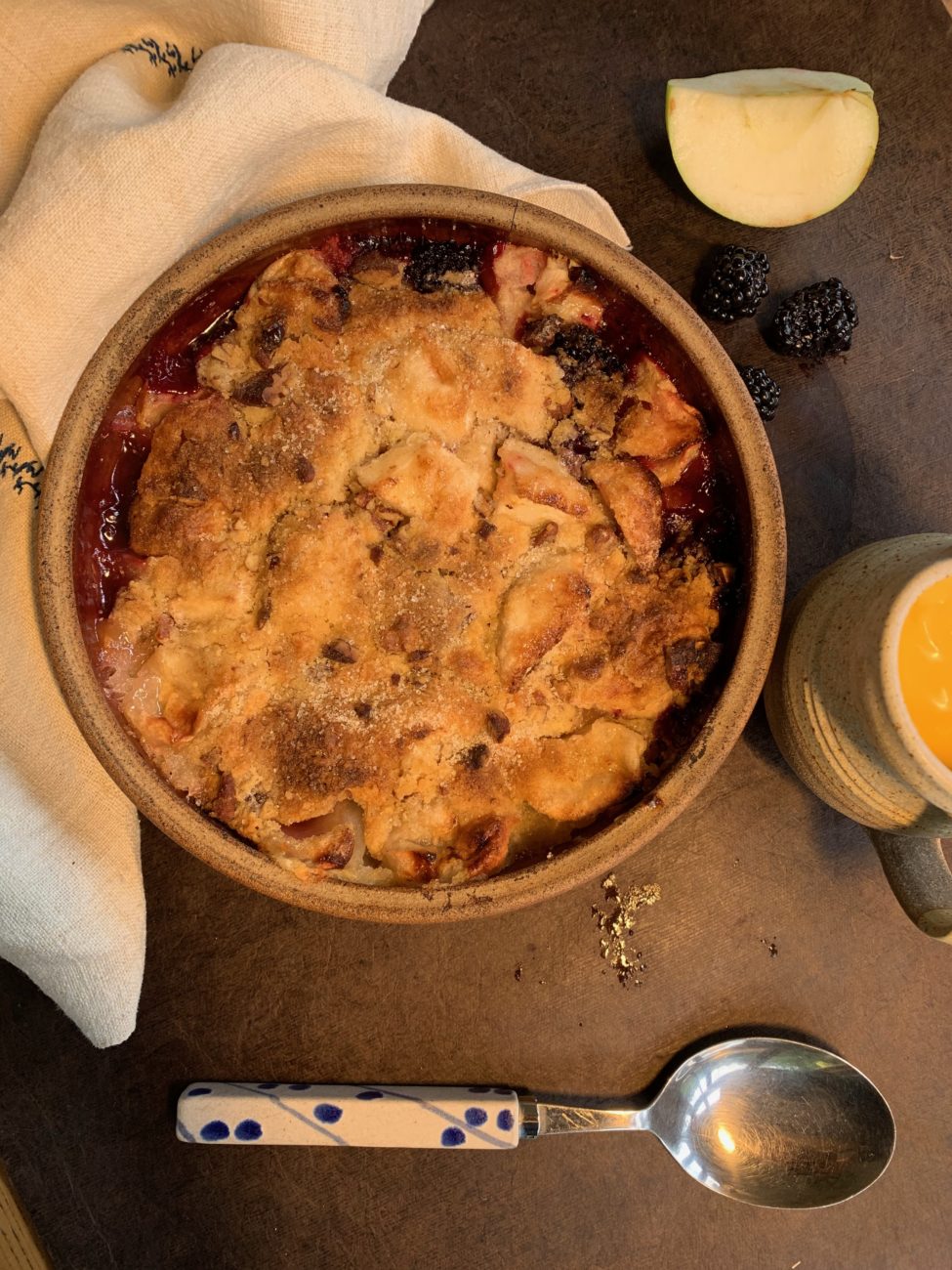 Ingredients:
For the filling
2 large Bramley apples, peeled, cored and chopped into large chunks
100g blackberries (check for little bugs if you have picked them)
50g caster sugar
For the crumble topping
75g caster sugar
80g plain flour
30g rye flour (gives a nutty taste, optional – increase plain flour if omitting)
10g oats (optional – increase plain flour if omitting)
80g unsalted butter, cut into cubes
30g nuts, whatever you have in the cupboard e.g. hazelnuts, pecans, walnuts
Method:

Prepare the filling
Peel and core the apples and chop roughly
Add blackberries and sugar to apples and mix well
Transfer to baking dish
Prepare the crumble
A magimix is the easiest option but failing that your hands are the next best thing!
Preheat your oven to 190C, 170C Fan, Gas Mark 5
Weigh out the plain flour, rye flour and oats if you are using them
Add diced butter, whizz int he mixer if using ot rub the butter into the flour with hands until you have a robust breadcrumb feel (i.e. not too smooth)
Add sugar and roughly crushed nuts
Spread most of the crumble over the apples and press down lightly with the back of a spoon
Sprinkle remaining crumble over the top but do not press down
Place on baking tray in the middle of you oven and bake for about 40 minutes
The crumble should be golden and the apples soft
Meanwhile make your custard
Homemade Custard
You would be forgiven for thinking this a step too far, but my nemesis is having to do everything from scratch, Try it once and make your own decision as to whether it is worth the effort. I think you will find it is, at least once in a while.
Ingredients
500ml full fat milk
6 egg yolks (save the whites for meringues or adding to scrambled eggs, they freeze well)
50g golden caster sugar
1 level tablespoon cornflour
1 teaspoon vanilla extract
Method
Separate the eggs, add the sugar, cornflour and 100mls of milk, whisk using a hand whisk until pale and ribbony
In a heavy bottomed pan heat the remaining milk gently, take care not to let the bottom catch
Just as it warms and reaches simmering point, remove from the heat and gradually pour over the egg mixture whisking well with each addition
Return the pan to the gentle heat and cook until thick and creamy
Pour into your favourite jug and serve