Do not despair, salad lovers! Just because Autumn is making her presence felt it does not mean that we have to stop eating salad.
The kitchen garden is looking sad but there it is still producing an abundance of fresh vegetables. The variety may be less but that is what seasonal eating is all about.
This fresh kale salad is delicious, made all the more scrummy by the Willys Apple cider vinegar dressing.
I would recommend kale as crisp and as fresh as you can get, preferably from a Farmers' Market rather than the pre chopped bagged old stuff you can easily pick up in a supermarket. It is worth the effort of seeking out the freshest kale, I promise.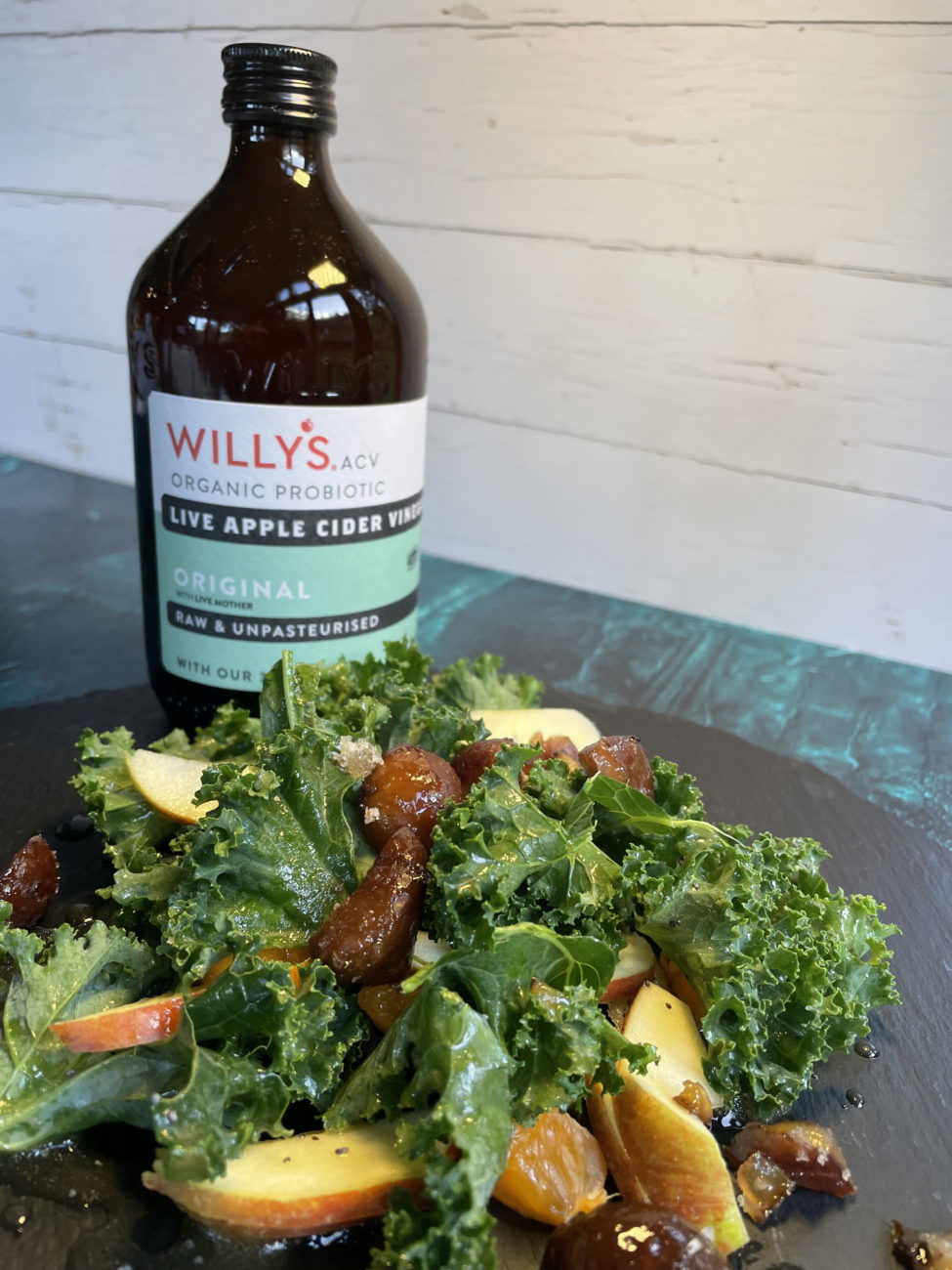 Ingredients
Candied chestnuts

30g sugar
Pinch sea salt
Pinch of chili flakes
150g chestnuts (or pecans halves)
Salad Dressing

85mls Willys Apple Cider Vinegar
100 mls extra virgin olive oil
1 tsp wholegrain mustard
70 ml honey or maple syrup
Salad

200g fresh crispy kale
1 red apple cored and thinly sliced
1 satsuma peeled, all skin removed
Method
Pre heat oven to 180°C.
Begin by lightly coating the chestnuts in a tiny bit of olive oil, just enough to make the sugar combination sticks to them.
Put sugar, chilli flakes and salt in a bowl. Mix well and toss the chestnuts in the mixture until they are all coated.
Tip onto lined baking tray and roast for about 15 minutes, or until golden and caramelised.
Set aside to cool.
To make the dressing, weigh all the ingredients into a clean jar with a tight fitting lid. Shake well, set aside.
To make the salad, wash the kale well, spin to remove all water, break up with your hands into bite sized pieces and put into a bowl. If the kale is fresh it will be very brittle and break easily.
Add the finely sliced apple and peeled satsumas pieces. Mix well, drizzle the dressing and dress well.
Finally, break up the candied chestnuts and sprinkle over the top.
This is a delicious fresh, nutritious salad and goes with everything. Try it with our Sausage Wreath or Gaia's Vegan Wreath for a very special Boxing Day lunch.